De basis van een Windows netwerk omgeving is Active Directory. Deze gouden gids van aanwezige servers, computers, gebruikers en groepen is de ruggengraat van je netwerk. Het opzetten van een dergelijke server is in tamelijk eenvoudig.
Begin met een basis installatie van Windows Server 2022. Zorg wel dat je beoogde domain controller een statisch ip-adres heeft. De vuistregel is dat iedere server in een netwerk over een statisch adres beschikt.
Je hebt vast gemerkt dat standaard de Server Manager opstart bij het inloggen. Kies in dat dashboard voor "add roles and features".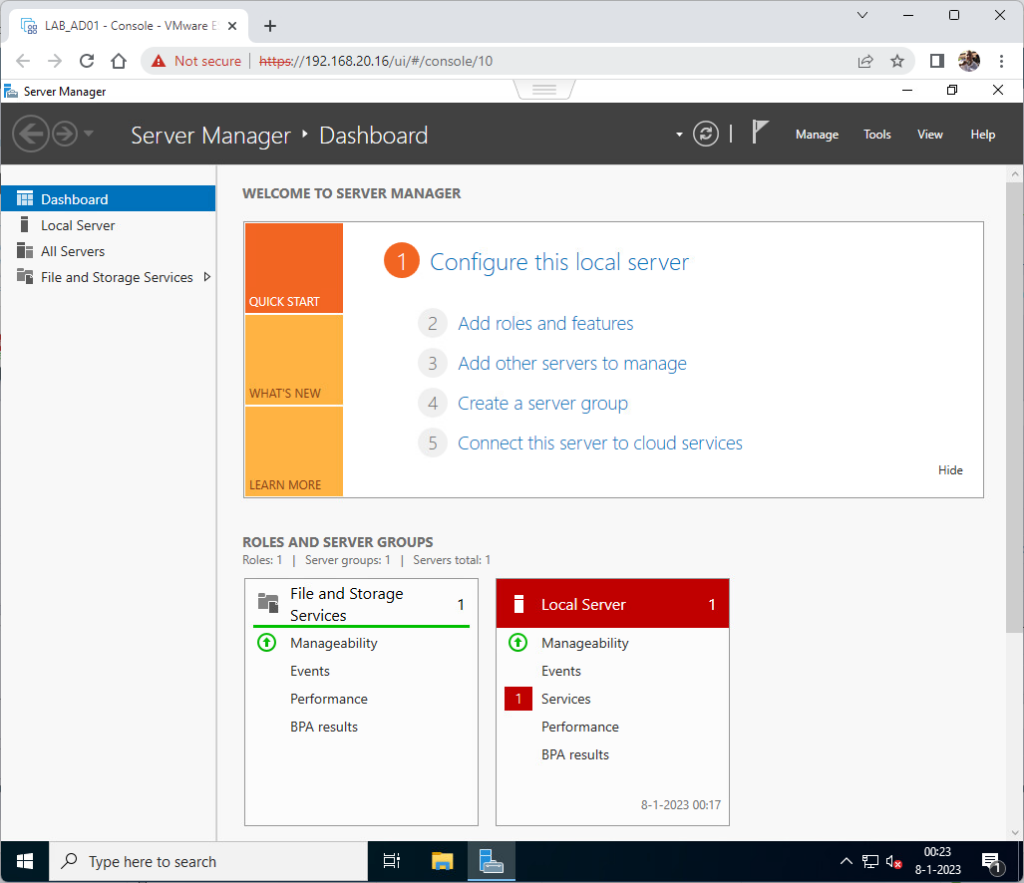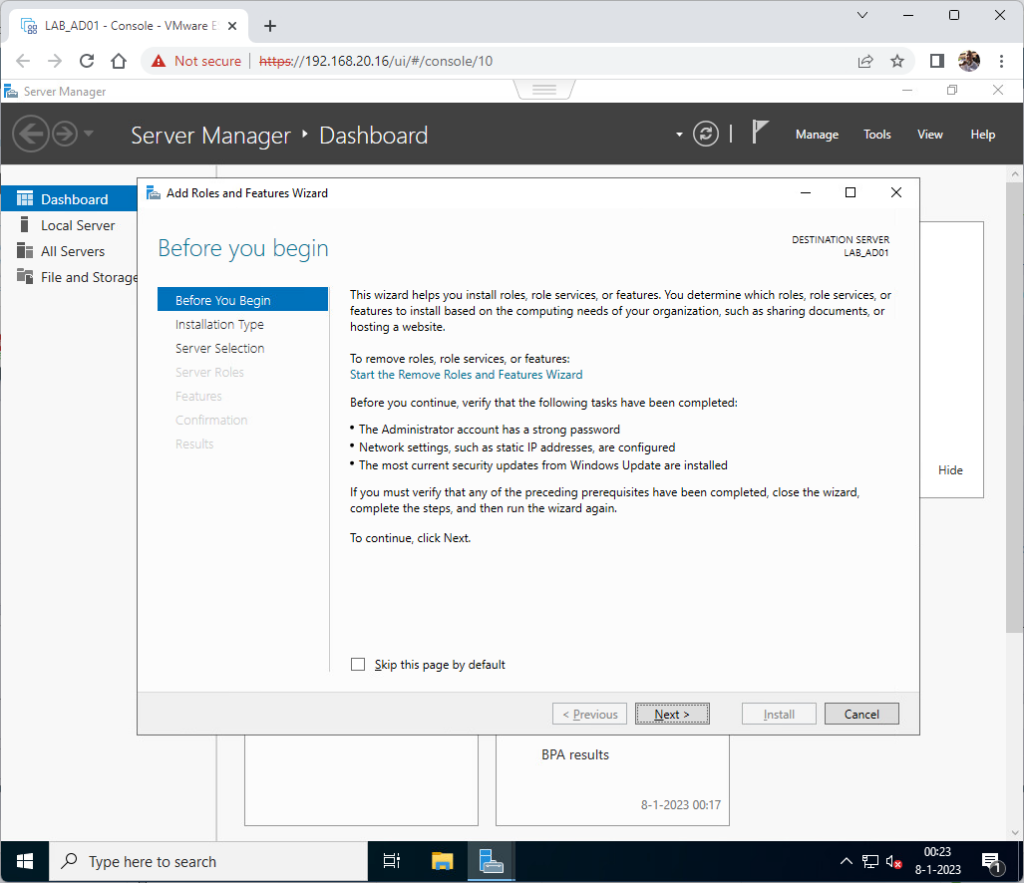 Klik simpelweg op Next en ga verder met Role-Based or feature-based installation.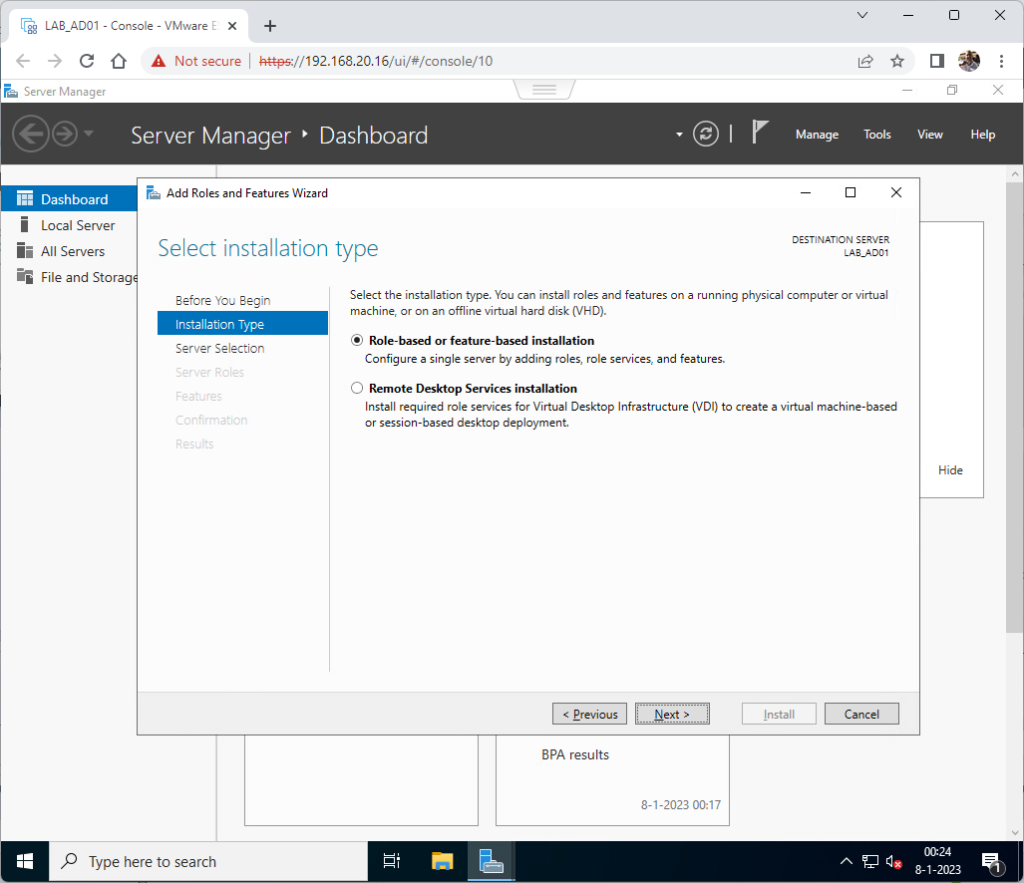 Er wordt je nu gevraagd op welke server je dit wil installeren. Aangezien dit de enige server (op dit moment) in ons LAB is, kiezen we voor de enige aanwezige server in de vermelde Server Pool.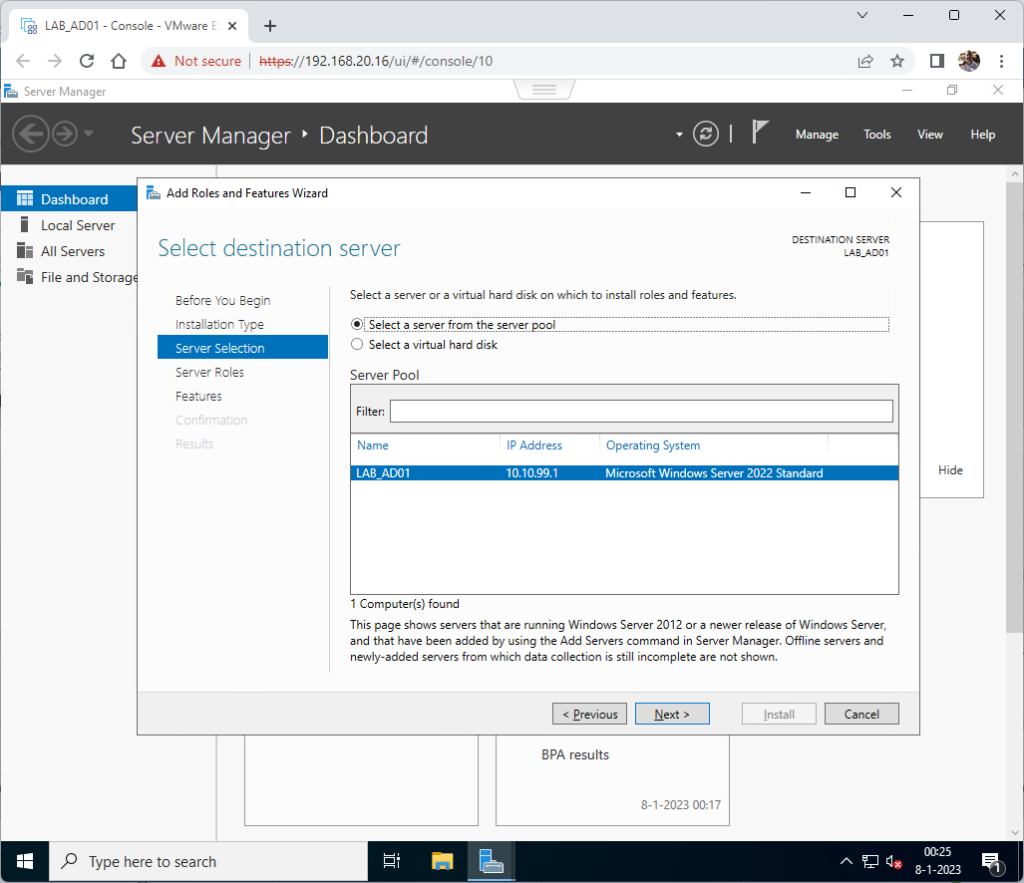 Nu selecteren we Active Directory Domain Services. Er verschijnt een pop-up die de nodige features weergeeft die geinstalleerd gaan worden. Let daarbij erop dat je ook het vinkje bij Include Management Tools zet.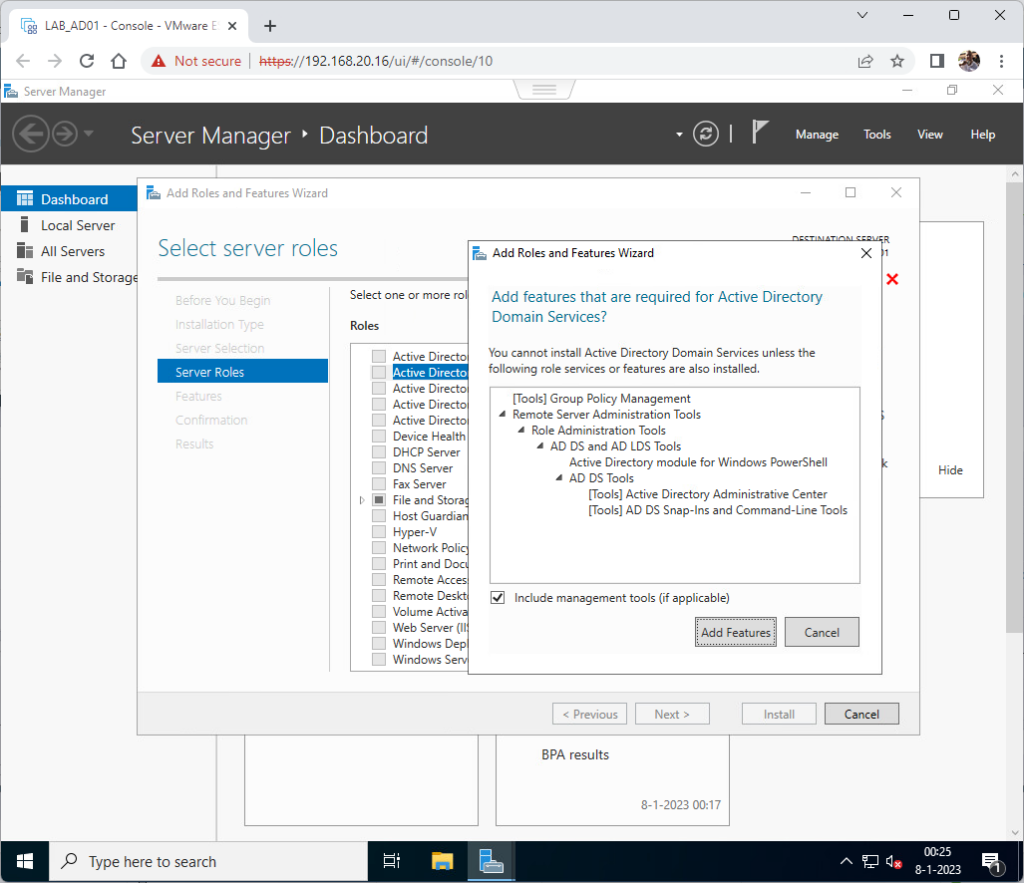 Aangezien we ook willen dat deze server DHCP server wordt, zetten we ook bij die rol een vinkje evenals bij DNS. Die laatste is namelijk heel belangrijk binnen een Active Directory en het is handig als deze rol op je domain controller staat in plaats van een separate server.
Na enkele next next acties kun je kiezen voor install.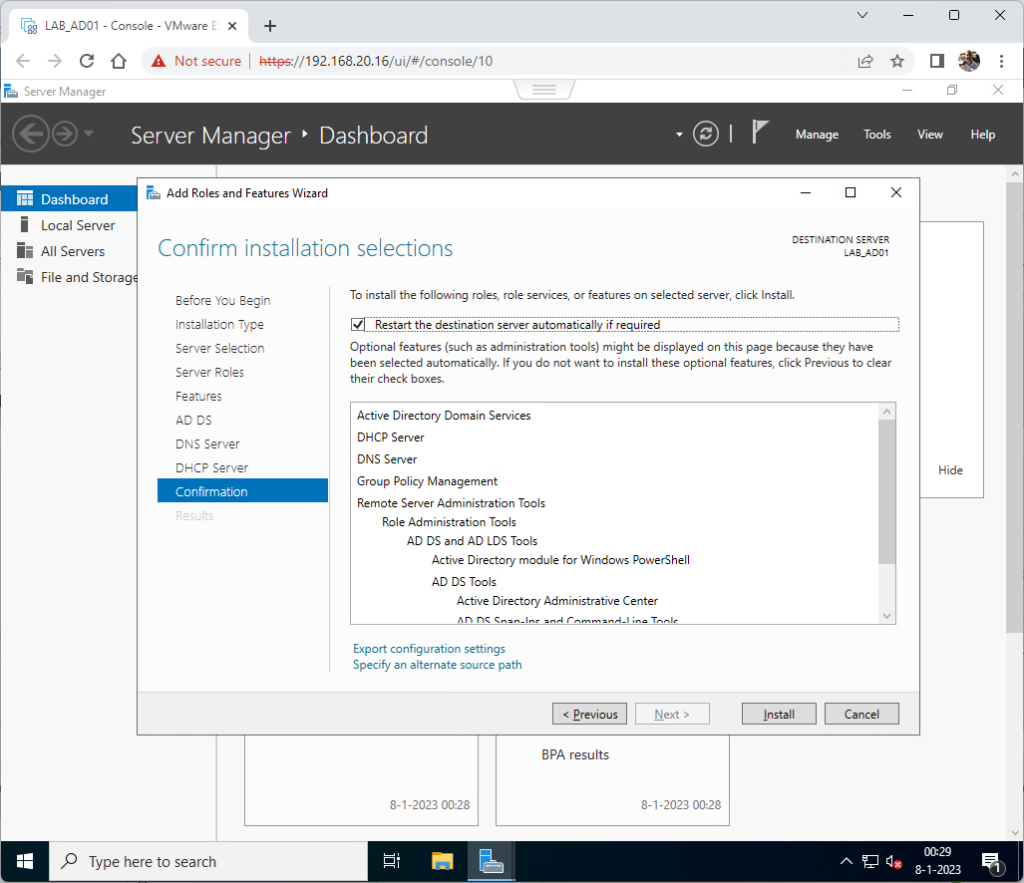 De rollen worden hierbij enkel voorbereid, de daadwerkelijke configuratie volgt later. De server zal na de voorbereidende fase herstarten. Je zult nu melding krijgen dat je "post-deployment configuration" taken te volbrengen hebt. We beginnen daarbij met die van de Active directory domain services door te klikken op "promote this server to a domain controller".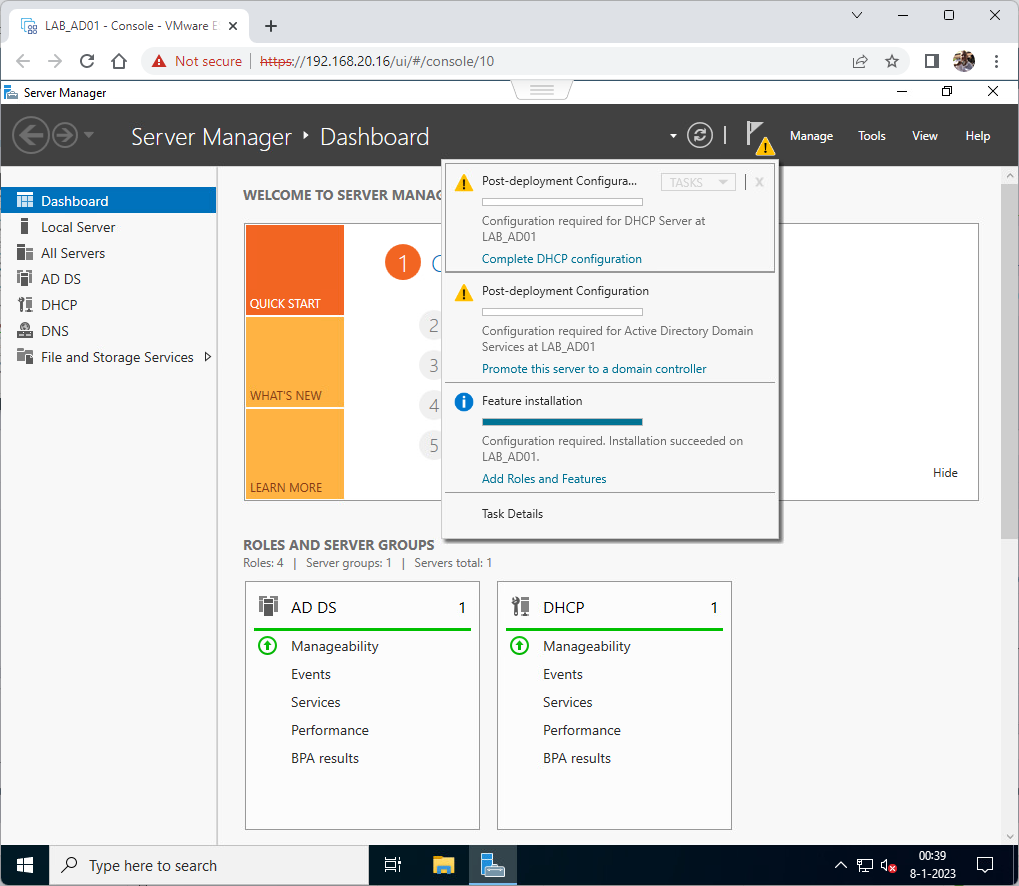 Aangezien we een compleet nieuw netwerk beginnen, kiezen we voor "add a new forest" en geven we een naam aan het root domein. Stel dat je al een bestaand domein hebt, dan zou je deze server daaraan kunnen toevoegen. Of aan een bestaand forest bestaande uit meerdere domeinen (middleearth.local als foest domein met rivendel.local, rohan.local en shire.local als onderliggende domeinen).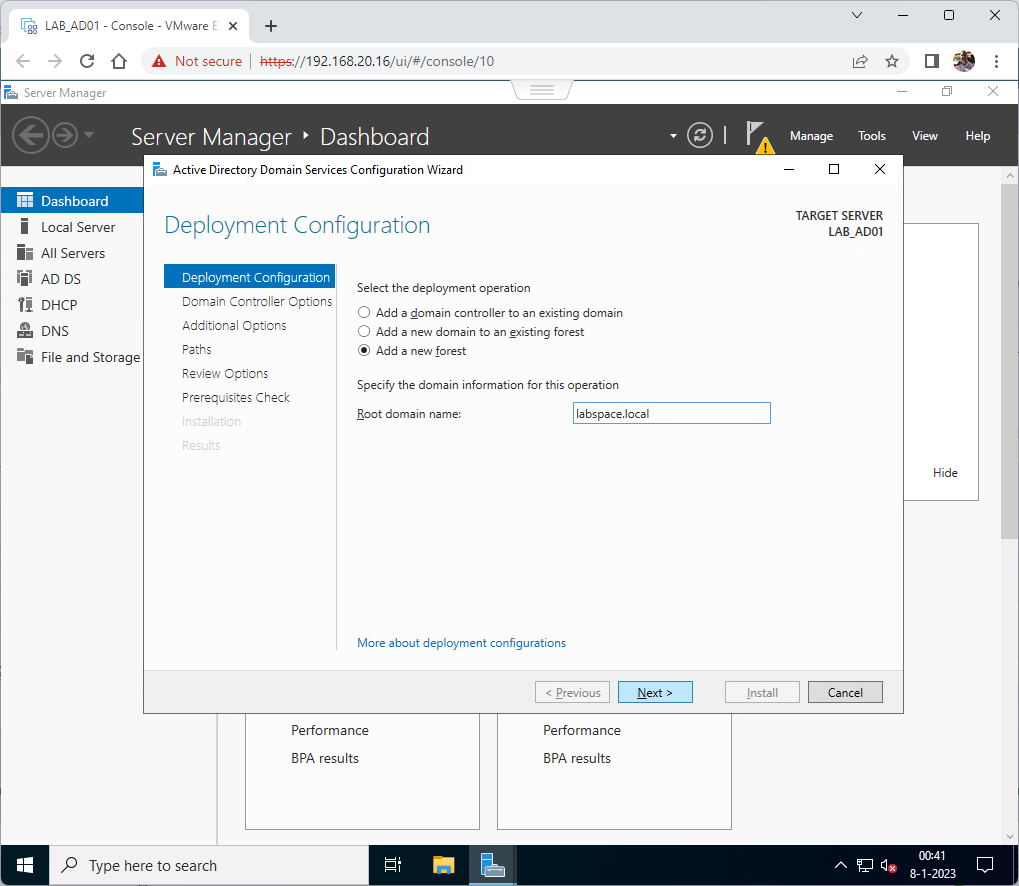 Er wordt een funtioneel level genoemd. Dat is van belang voor bijvoorbeeld schema opties en groepsbeleid (gpo's). Server 2016, 2019 en 2022 functioneren op functional level Windows Server 2016.
Tevens zie je dat Active Directory tevens in een DNS server rol wil voorzien en de nieuwgeboren server als Global Catalog wil inzetten. Een Global Catalog server is een server die authenticatie afhandelingen doet binnen Active Directory. Je kunt meerdere domain controllers hebben, maar deze hoeven niet allemaal als Global Catalog ingezet te worden.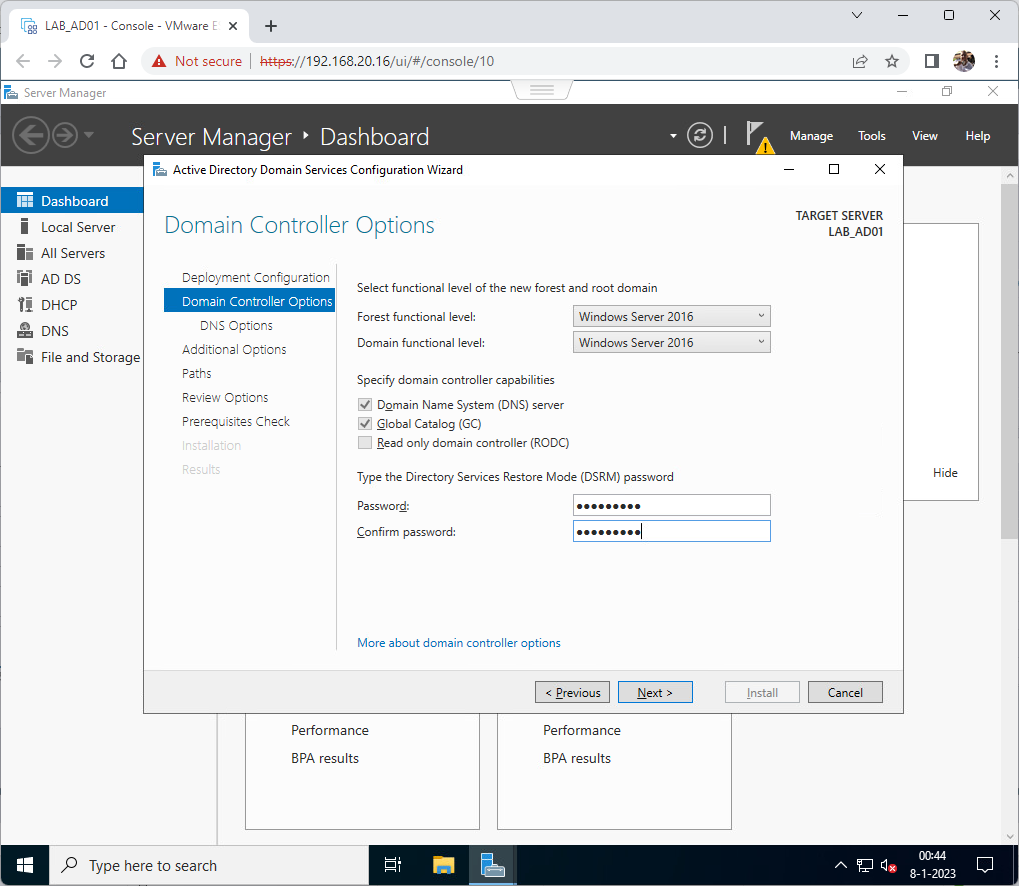 De waarschuwing over de missende zone kun je negeren. Dit is een nieuwe omgeving dus er is nog geen parent zone.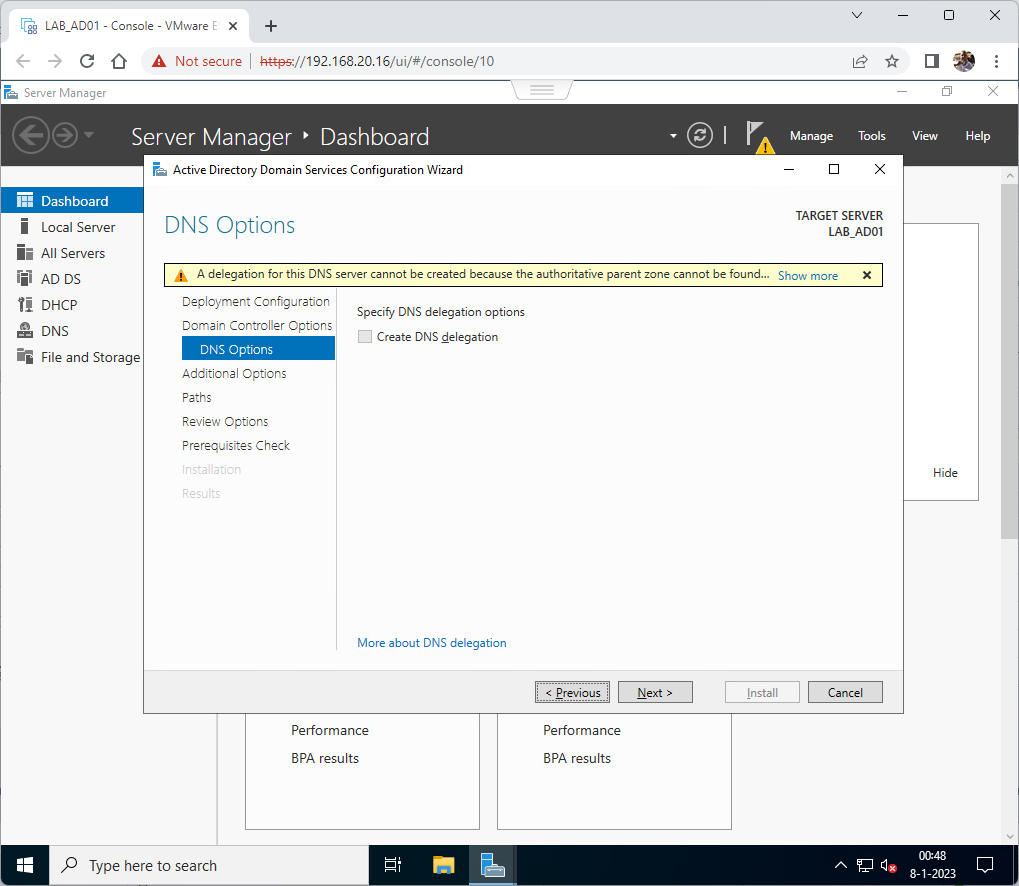 Vervolgens wordt een "netbios" variant van je gekozen domain name vermeld. Deze kun je eventueel nog aanpassen.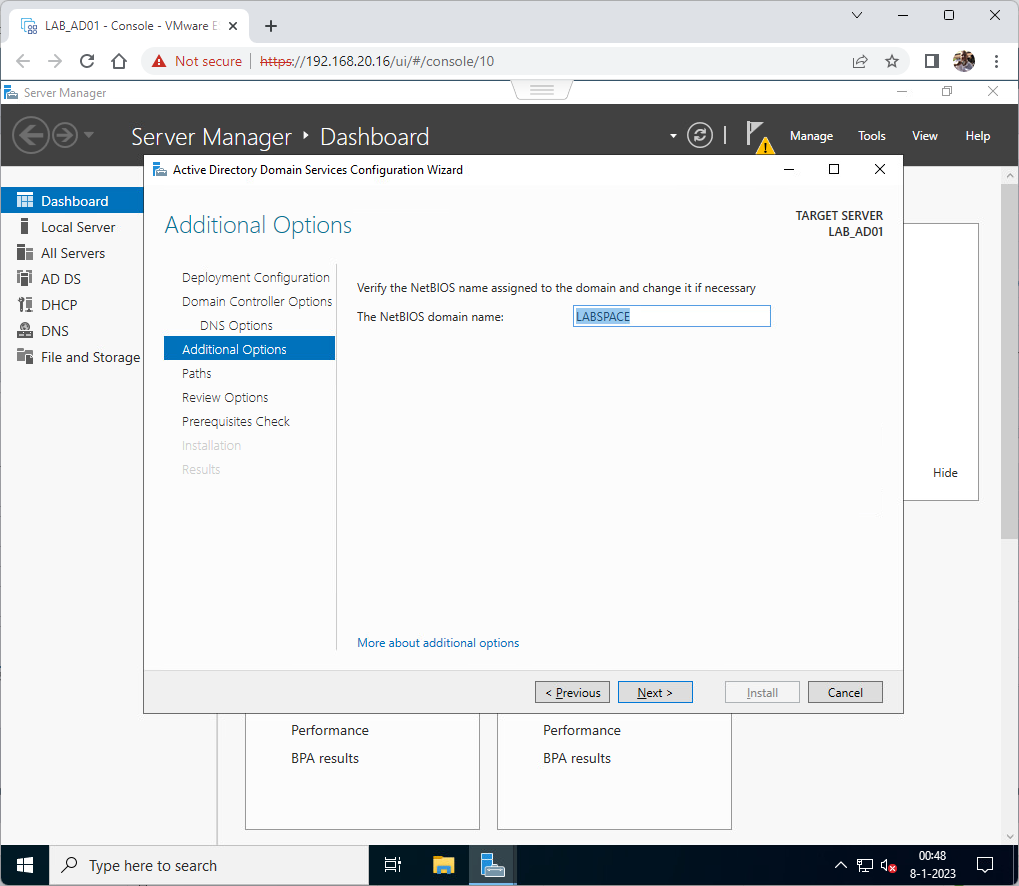 Neem de voorgestelde paden over.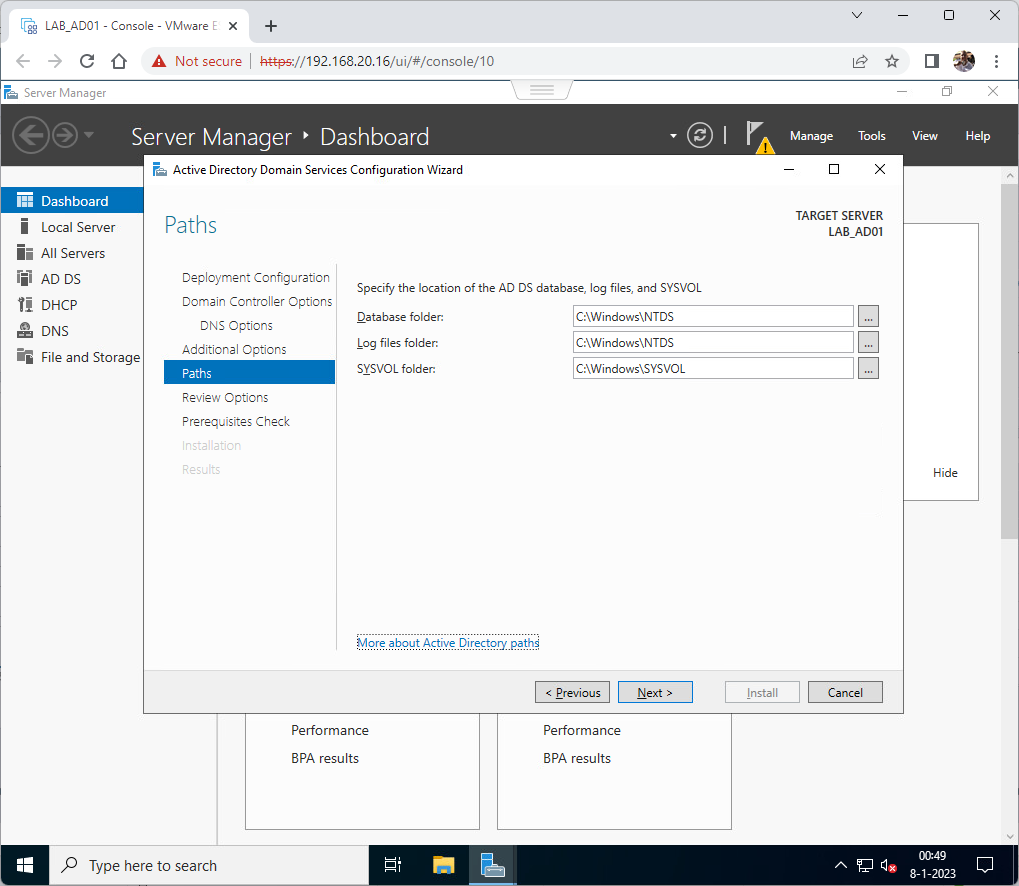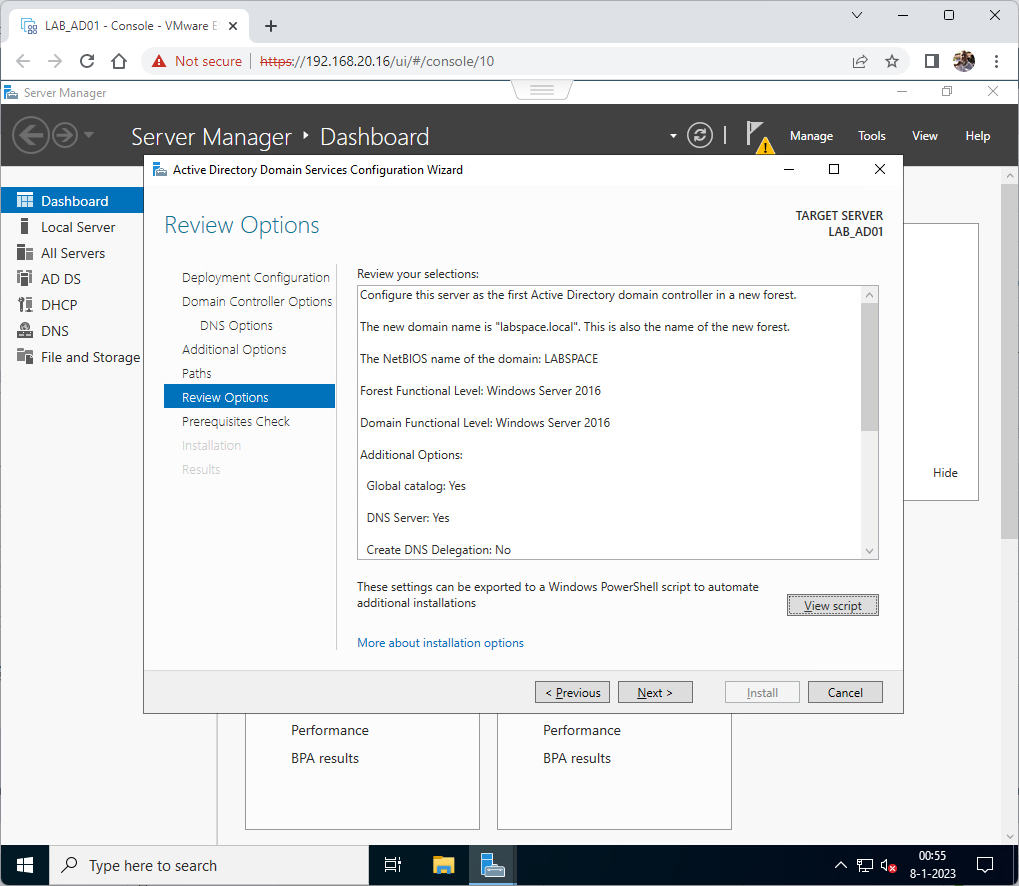 Deze uitrol had ook via Powershell gekund. In geval van de bovengenoemde opties:
## Powershell script voor AD DS uitrol
Import-Module ADDSDeployment
Install-ADDSForest `
-CreateDNSDelegation:$false `
-DatabasePath "C:\Windows\NTDS" `
-DomainMode "WinThreshold" `
-DomainName "labspace.local" `
-DomainNetbiosName "LABSPACE" `
-InstallDNS:$true `
-LogPath "C:\Windows\NTDS" `
-NoRebootOnCompletion:$false `
-SysvolPath "C:\Windows\SYSVOL" `
-Force:$true

De afronding volgt nu: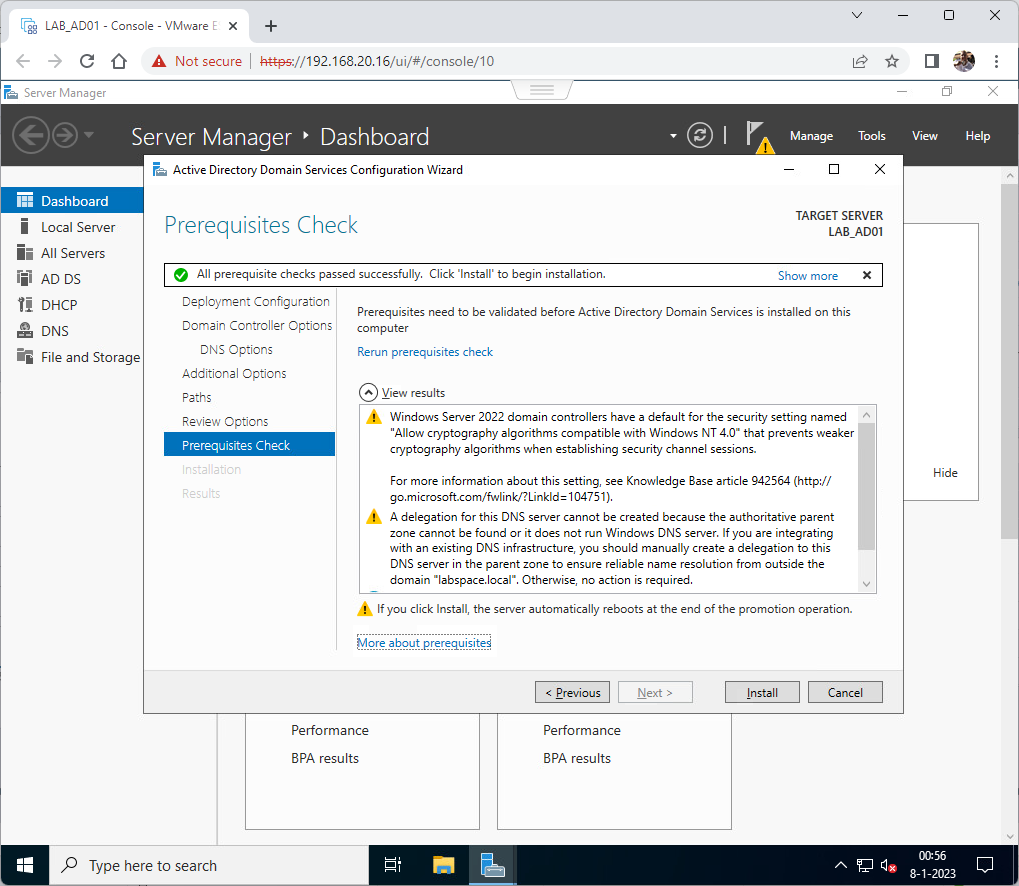 Als dat alles klaar is..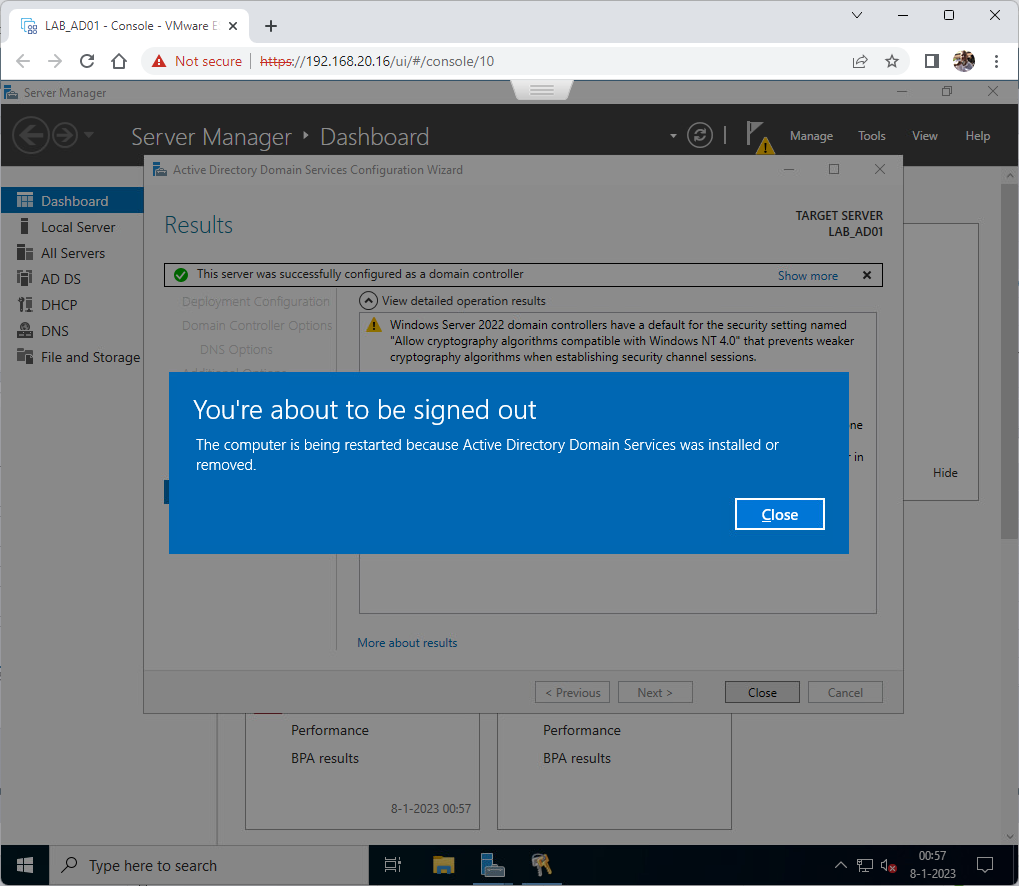 We kunnen nu voortaan inloggen als "labspace\administrator"