Bij enkele Exchange Servers in mijn beheer gaf de Exchange Update KB5007409 van 9 November problemen. Gebruikers konden na de installatie van Exchange Server 2016 CU21 Nov21SU en Exchange Server 2016 CU22 Nov21SU outlook niet geopend krijgen en op de server stonden in de eventviewer meldingen als:
Event 15021, HttpEvent
An error occurred while using SSL configuration for endpoint 0.0.0.0:444. The error status code is contained with the returned data.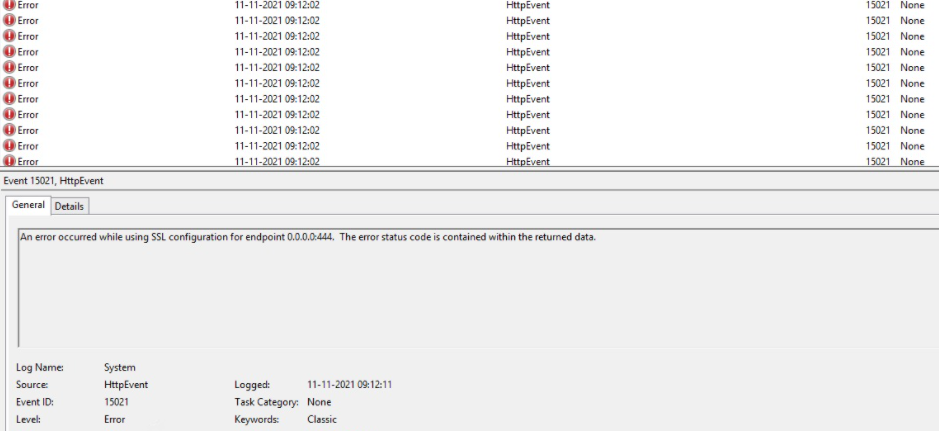 Of :
Event 15300, HttpEvent
SSL Certificate Settings deleted for endpoint : 0.0.0.0:444.

Ook het starten van de Exchange Management shell op de betreffende servers gaf een foutmelding. Dit wees al vlot naar het verkeerde of liever gezegd het ontbreken van een certificaat in de binding van de Exchange Backend site. Door hier het juiste certifcaat weer te selecteren, of een nieuw selfsigned certificaat aan te maken, kan het probleem snel verholpen worden.
New-ExchangeCertificate
Bij de vraag om te overschrijven kies je NEE.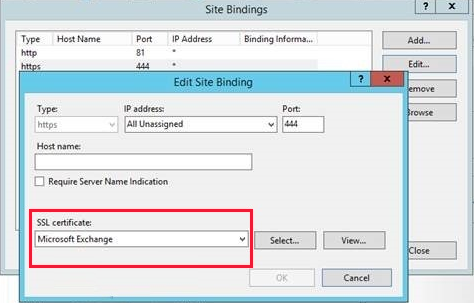 Na het opslaan van de wijziging zal de Exchange Management Shell weer functioneren en kunnen clients zoals Outlook en mobiele apparaten weer een verbinding maken.