Bij het koppelen van een on-premise omgeving aan een bestaande tennant liep ik tegen het issue aan dat een enkel user account niet wilde matchen met een bestaand account binnen de tennant. Binnen eventvwr was de volgende melding aanwezig:
Unable to update this object because the following attributes associated with this object have values that may already be associated with another object in your local directory services: [ProxyAddresses SMTP:blafasel@steijvers.com;]. Correct or remove the duplicate values in your local directory. Please refer to http://support.microsoft.com/kb/2647098 for more information on identifying objects with duplicate attribute values.
Pikant detail, het proxyaddresses atribuut komt voort uit Exchange… Deze omgeving had echter geen exchange server maar een exotische concurrent.
Het corrigeren via powershell, adsi-edits e.d. boden geen oplossing. Een artikel van Petenetlive reikte me een geweldig alternatief aan, het Office 365 portal zelf.
Open het Azure Acitve Directory admin panel en ga naar Azure Active Directoy > Azure AD Sync > Azure AD Connect Health en klik daar op Synchronisatie fouten,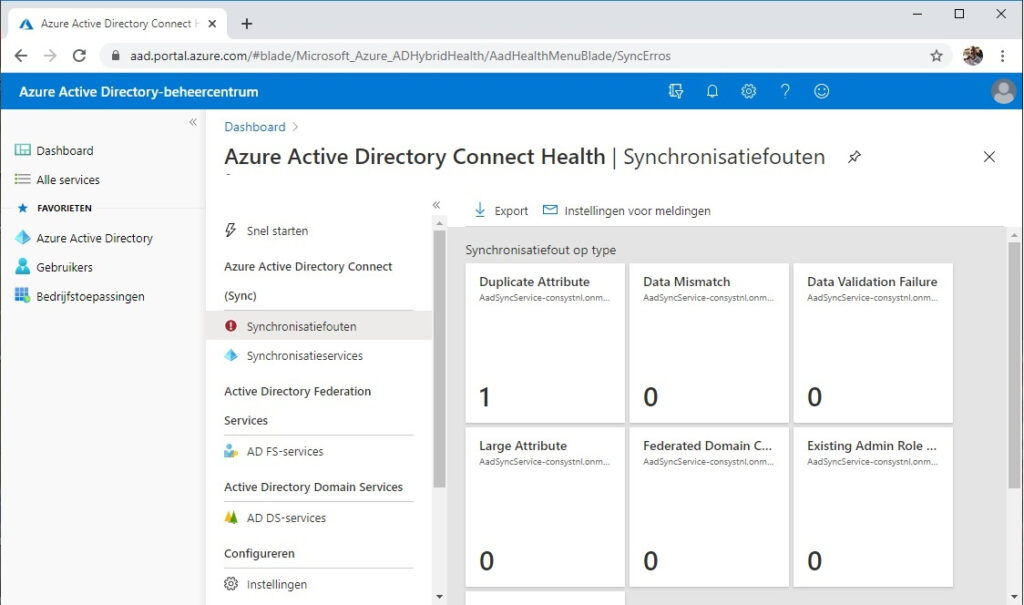 Je ziet hier een 1 voor je Duplicate Atributes, klik daar op. Vervolgens krijg je een scherm met de gegevens van je on-premise user en je office 365 user. Controleer of dit de accounts zijn die je wil matchen en klik op Troubleshoot.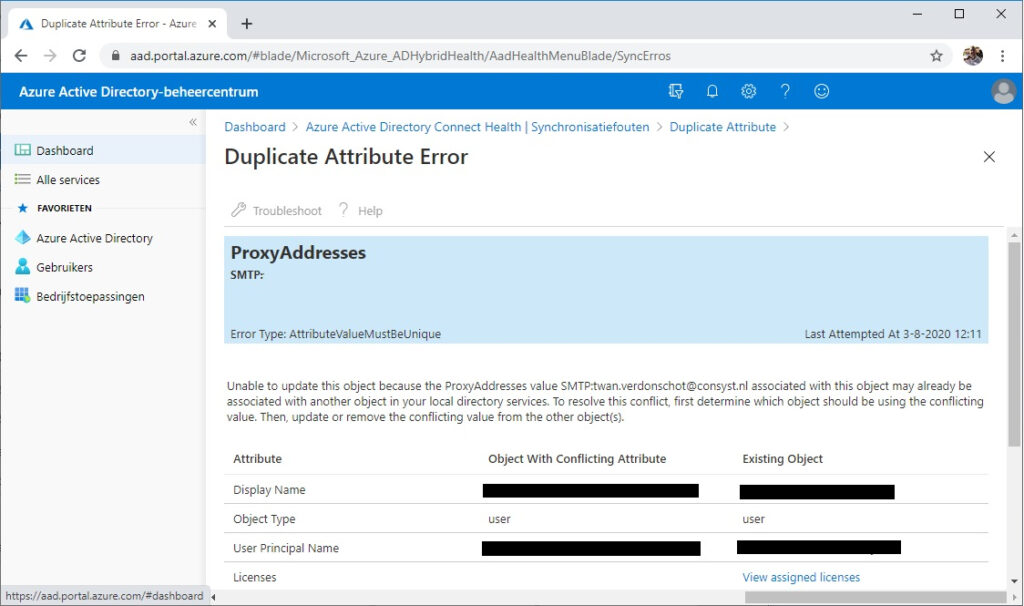 Nu krijg je nog een scherm waarin je bevestigd dat je echt deze accounts bij elkaar horen. Start nog een keer je lokale AD sync op middels powershell en ook het probleemgeval synchroniseert correct.
Start-ADSyncSyncCycle -PolicyType Delta