Enkele weken geleden hebben we een nieuwe Exchange Server 2019 klaargezet om naartoe te migreren. Nu is het moment aangebroken dat we deze echt in gebruik gaan nemen.
Als eerste zorgen we dat mail van buiten op de nieuwe server terecht komt, pas daarvoor je firewall aan. Houdt ook rekening met uitgaande firewall regels met betrekking tot SMTP verkeer.
---
---
Vervolgens pas binnen de interne DNS de verwijzingen voor je mailserver aan zoals je autodiscover en mail host. Dit zorgt ervoor dat clients naar je Exchange Server 2019 gaan kijken.
Ga nu in je ECP naar Recipients > Migration en kies voor Move to a different database. In de wizard selecteer je batch-gewijs mailboxen van gebruikers.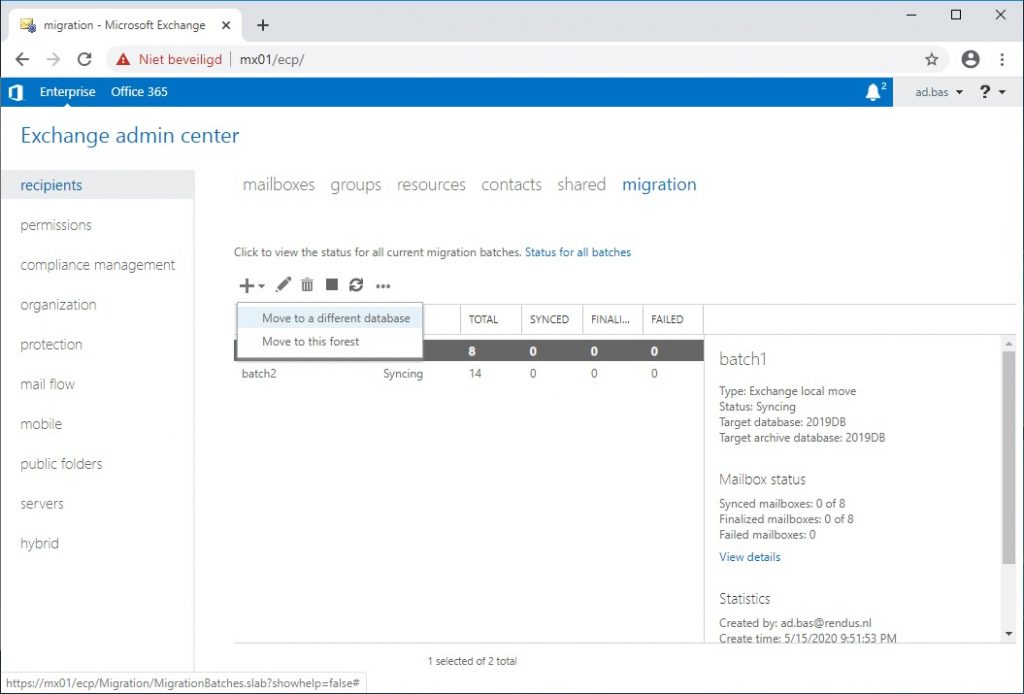 Als de gebruikers mailboxen klaar zijn met hun verhuizing naar de 2019DB mailbox database, gaan we beginnen aan de systeem mailboxen en public folder mailboxen.
Eerst zetten we de publicfolder mailbox over van de Exchange 2016 (MX00 met 2016DB) naar Exchange 2019 (met daarop 2019DB). Get-Mailbox -PublicFolder -Server Exchange2016servernaam| New-MoveRequest -TargetDatabase Exchange2019databasenaam
Get-Mailbox -PublicFolder -Server MX00 | New-MoveRequest -TargetDatabase 2019DB
Gebruik bijvoorbeeld Get-MoveRequest of Get-MoveRequest | Get-MoveRequestStatistics om te kijken of de public folder mailbox completed is met zijn verplaatsing naar de nieuwe mailbox database.
Vervolgens gaan we beginnen aan het overzetten van de systeem mailboxen. Als eerst willen we zeker weten dat we het gehele forest in once scope hebben.
Set-AdServerSettings -ViewEntireForest $true
Auditlog Mailbox
Get-Mailbox -AuditLog -Database "2016DB" | New-MoveRequest -TargetDatabase "2019DB"
Arbitration Mailbox
Get-Mailbox -AuditLog -Database "2016DB" -Arbitration | New-MoveRequest -TargetDatabase "2019DB"
Controleer dat hier geen archief mailboxen van bestaan
Get-Mailbox -Auditlog -Database "2016DB" -Archive
Monitoring Mailbox
Get-Mailbox -Monitoring -Server "MX00" | New-MoveRequest -TargetDatabase "2019DB"
Discovery Search Mailbox
Get-Mailbox DiscoverySearchMailbox* | New-MoveRequest -TargetDatabase "2019DB"
De voortgang bewaak je met get-move-request.
Get-MoveRequest
DisplayName Status TargetDatabase
----------- ------ --------------
HealthMailbox-MX00-010 InProgress 2019DB
HealthMailbox-MX00-2016DB InProgress 2019DB
HealthMailbox-MX01-001 InProgress 2019DB
HealthMailbox-MX01-003 InProgress 2019DB
HealthMailbox-MX01-005 InProgress 2019DB
HealthMailbox-MX01-007 InProgress 2019DB
HealthMailbox-MX01-009 InProgress 2019DB
Dan rest je nog het aanpassen van een mogelijke geconfigureerde smtp server in software en/of multifunctionals naar het ip-adres van de nieuwe Exchange Server 2019.
Als laatste stappen, maar dat kan even wachten, faseer je de Exchange 2016 netjes uit. Controleer dat er zeker geen (archief)mailbox achterblijft en dat je nieuwe server de zelfde relay-connector heeft voor je applicaties en hardware.
Verwijder de mailbox database
Get-MailboxDatabase -Identity "2016DB"| Remove-MailboxDatabase
Verwijder Exchange zelf door te gaan naar "C:\Program Files\Microsoft\Exchange Server\V15\Bin" en daar de setup in uninstall mode te draaien.
setup.exe /mode:uninstall