In SBS 2011 migratie naar Server 2016/2019 deel 1 hebben we de DC2019 wel al gepromoveerd naar domain controller, maar we hebben nog geen FSMO rollen overgenomen van de SBS2011. Doe dit pas nadat je op zowel SBS2011 als DC2019 met een "dcdiag" geen onverklaarbare foutmeldingen tegenkomt.
---
---
Een andere factor waar je rekening mee moet houden is dat je na het verplaatsen van de FSMO rollen, 21 dagen de tijd hebt voordat je SBS2011 ermee op houdt. Ben er dus zeker van dat je een GO-FOR-MIGRATION krijgt voordag je de rollen toe-eigent op de DC2019.
ntdsutil
roles
connections
connect to server dc2019
q
seize naming master
seize infrastructure master
seize schema master
seize PDC
seize RID master
Dat ziet er ongeveer zo uit:
C:\Windows\system32>ntdsutil
ntdsutil: roles
fsmo maintenance: connections
server connections: connect to server dc2019
Binding to dc2019 ...
Connected to dc2019 using credentials of locally logged on user.
server connections: q 
fsmo maintenance: 
Controleer dat de rollen succesvol op je nieuwe DC2019 actief zijn. Hoe? Dat lees je hier.
Dan komen we nu bij het migreren van de DHCP server. Voer het volgende commando uit op je SBS2011:
netsh dhcp server dump all > c:\dhcp-config.txt
Je krijgt nu een text bestand waarin je zelfs nog simpel je Servernaam, DHCP scope en subnet kunt aanpassen. Ga nu naar je DC2019 en installeer de DHCP rol en kopieer DHCP-Config.txt vanaf de SBS2011 waarna je daar de DHCP configuratie inleest:
netsh exec c:\dhcp-config.txt
Er zou nog een alternatieve methode zijn:
netsh dhcp server export c:\users\username\ddesktop\dhcp.txt all
netsh dhcp server import c:\users\ username \desktop\dhcp.txt all
Vergeet niet te controleren dat de DCHP service op de SBS2011 gestopt en uitgeschakeld is en of je de nieuwe DC2019 als naamserver hebt neergezet bij je DHCP options.
Voor het overzetten van de gedeelde printers zorg je dat zowel op je SBS2011 als DC2019 de Print Management rol geïnstalleerd is. Daarmee kun je een export doen op je SBS2011 welke je vervolgens importeert op je DC2019.
---
---
Als een van de laatste zaken op je DC2019 haal synchroniseer je de data vanaf je SBS2011. Hiervoor val ik het liefst terug op good-old robocopy. In het onderstaande voorbeeld nemen we dus de timestamp en rechten over van de bron bestanden. /R:1 /W:1 zorgt voor 1 retry en 1 seconde wachten als een bestand in gebruik is. De /purge zorgt ervoor dat een bestand dat tussendoor op de SBS2011 verwijdert is, ook op de DC2019 verwijderd wordt. Je kunt deze stap op voorhand al een laten draaien zodat je bij het daadwerkelijke migratie moment enkel een incrementele kopieeractie hebt.
robocopy \\sbs2011\d$\data \\dc2019\d$\data /E /ZB /DCOPY:T /COPYALL /R:1 /W:1 /V /purge

robocopy \\sbs2011\d$\users\shares \\dc2019\d$\usershares /E /ZB /DCOPY:T /COPYALL /R:1 /W:1 /V /purge

robocopy \\sbs2011\d$\Users\FolderRedirections \\dc2019\d$\userfolderredirections /E /ZB /DCOPY:T /COPYALL /R:1 /W:1 /V /purge
Wanneer je data over is, denk dan aan het stoppen van "sharing" op de SBS2011 en activeer dit op de DC2019. Pas eveneens je drivemappings aan in eventuele aanmeld scripts of in je GPO's.
NB: indien je netwerk bestaat naast Windows clients bestaat uit Mac OSX cients, biedt het aanzetten NETBIOS over TCP /IP een significante performance verbetering voor SMB toegang vanaf de Mac OSX clients.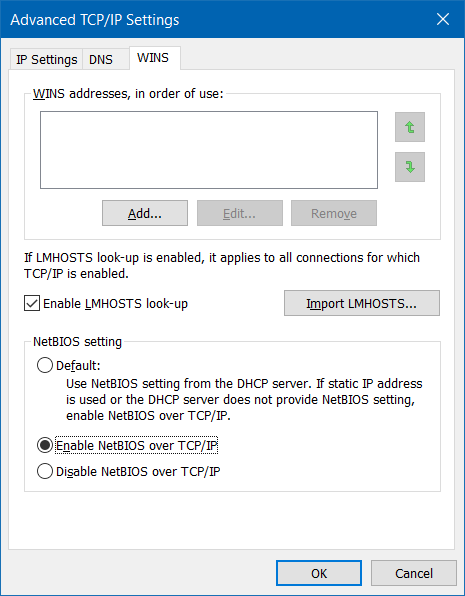 Vergeet niet om op al je productie servers of liever gezegd systemen met een statische netwerk configuratie de dns-server te wijzigen van SBS2011 naar DC2019.
Mocht je een RDP Gateway Server binnen je organisatie gebruiken, vergeet dan niet om deze rol over te zetten naar je DC2019.
In SBS 2011 migratie naar Server 2016/2019 deel 3 ga ik verder met de installatie van Exchange 2016 en de voorbereidende stappen.