Voor een overheerlijke paella moet je in Valkenswaard bij Aqui tato Rico-tapas y vino zijn. Daar vind je de lekkerste Paella en spaanse tapas. Maar ik kan me voorstellen dat je ook zelf eens een paella op tafel wil zetten. Althans deze drang had ik ditmaal.
Allereerst begon ik met het maken van een kip / groente soepje. Snij een ui en fruit deze met peper en nootmuskaat in een pan. Vervolgens doe je er water en kipfilet blokjes bij. Voeg naar smaak zout of een kippen bouillon blokje toe. Zorg voor 2liter extra aan soep (water) want dit gebruik je als bouillon om je risotto of paella rijst in te laten garen.
Vervolgens beginnen we aan de paella zelf. Snij een 100gr chorizo in stukjes en doe deze in een grote pan op laag vuur. Doe daar geen boter bij, maar wel een gesnipperde ui en een teen of 4 knoflook. Vervolgens doe je daar weer een gram of 400 aan kipfilet (in blokjes gesneden) bij. Deze hoef je niet compleet gaar te bakken, dat garen gebeurt vanzelf later.
Snij enkele paprika's fijn en voeg deze toe aan de pan evenals een pak (of als je minder lui bent aangelegd) verse tomaten blokjes. Laat ook 300gr erwtjes mee sudderen. Voeg nu een 400gr vannamei of black tiger garnalen toe en naar smaak rozemarijn, peterselie, paprika poeder en nog wat safraan.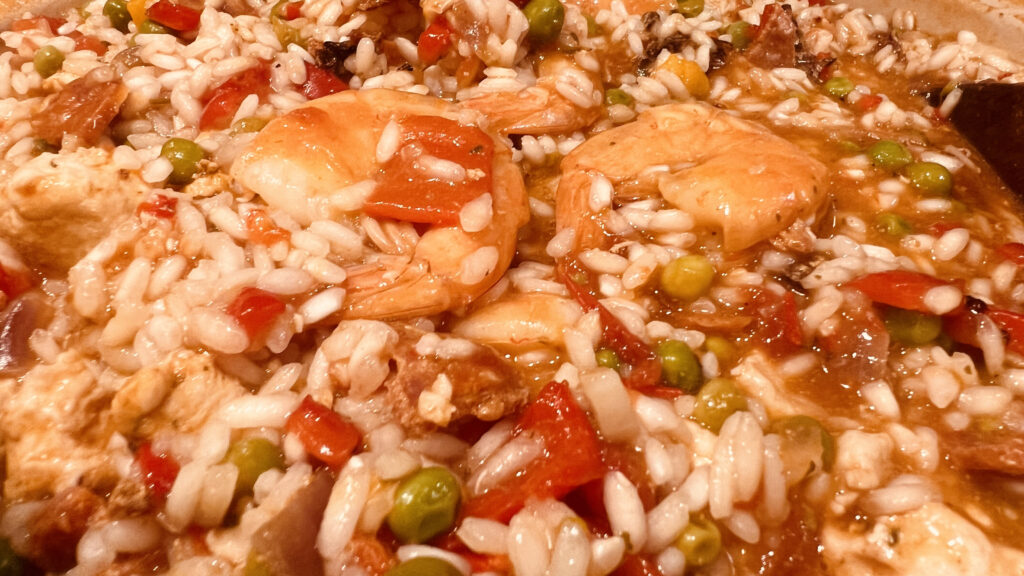 Pak nu je pan soep en lepel alvast een tweetal soeplepels soep in je braadpan. Hou daarbij een schuimspaan eronder om je kipfilet en groeten op te vangen zodat deze niet in je paella belanden ;-). Vervolgens doe je de risotto of paella rijst erbij in de braadpan, zet je het vuur wat hoger en ga je roeren. Als het nat bijna weg is, voeg je weer wat soepnat toe. Als laaste knijp je ook nog een citroen of limoen boven je pan uit.