Bij de activatie van Windows 2019 server kun je tegen activatie problemen aanlopen. Meerdere malen kreeg ik de melding "The product key you entered didn't work. Check the product key and try again, or enter a different one. (0x80070490)".
Of je krijgt een melding dat er geen verbinding met de externe KMS server gemaakt kan worden: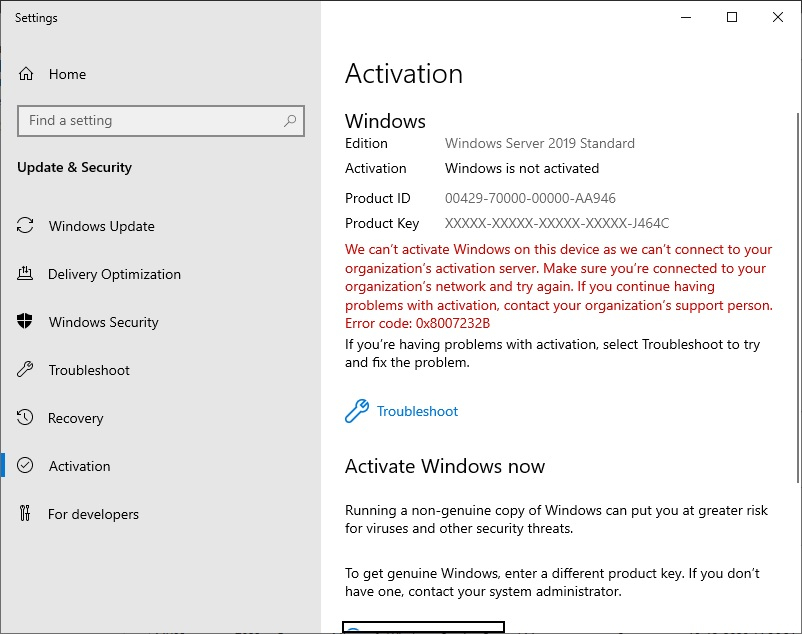 De oplossing is om via het slmgr.vbs script de activatie door te voeren. Start dit vanuit een elevated dos-prompt.
C:\WINDOWS\system32>cscript c:\windows\system32\slmgr.vbs /ipk S0M3-K3Y1D- 
S0M3-K3Y1D-HASH

Microsoft (R) Windows Script Host Version 5.812 
Copyright (C) Microsoft Corporation. All rights reserved. 

Installed product key  S0M3-K3Y1D-S0M3-K3Y1D-HASH successfully. 

C:\WINDOWS\system32> 
De hierboven gebruikte code is een fake en is puur bedoelt om als voorbeeld te fungeren.