In Exchange Server 2019 kun je tegen een probleem aanlopen dat e-mail niet afgehandeld wordt. In je eventvwr zie je meldingen als:"The FIP-FS Scan Process failed initialization. Error: 0x80004005. Error Details: Unspecified error" en "The FIP-FS "Microsoft" Scan Engine failed to load. PID: 26008, Error Code: 0x80004005. Error Description: Can't convert "2201010009" to long."
Het probleem is een geprogrammeerde maximum waarde die de MS Filtering Engine bereikt heeft op 1-1-2022. Dit is inmiddels al gedoopt tot de Y2K22 bug.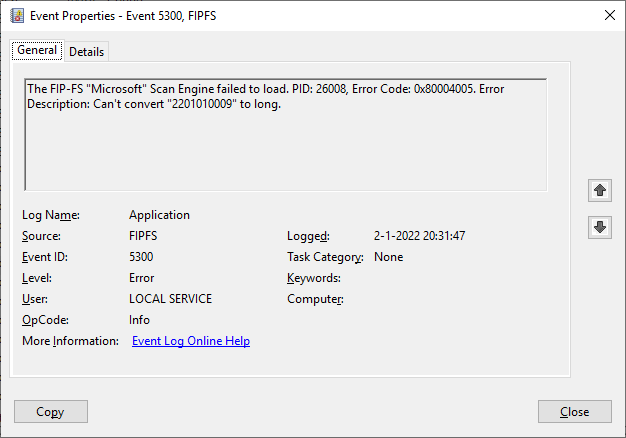 Ondertussen zie je in je exchange queue een hoop mail staan te wachten op aflevering.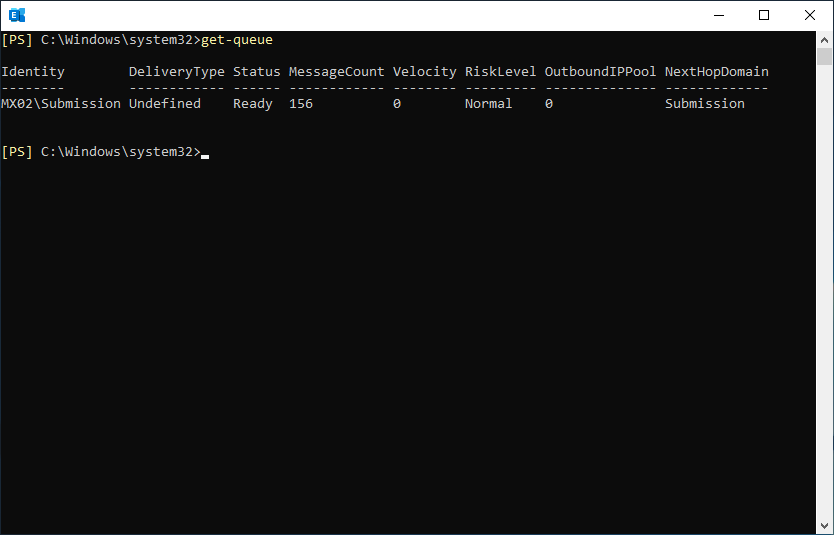 get-queue
Het uitschakelen van de anti malware scanning is de (tijdelijke) oplossing. Let op, dit is enkel een optie wanneer je NIET van Exchange Server als enige antispam en antimalware oplossing afhankelijk bent wat e-mail binnen je organisatie betreft.
Set-MalwareFilteringServer -Identity "servernaam" -BypassFiltering $true
Hierna dient nog de transport service opnieuw gestart te worden.
Restart-Service MSExchangeTransport 
Draai nu nogmaals get-queue en je ziet dat de DnsConnectorDelivery volop bezig is en je wachtrij afneemt in grootte.
get-queue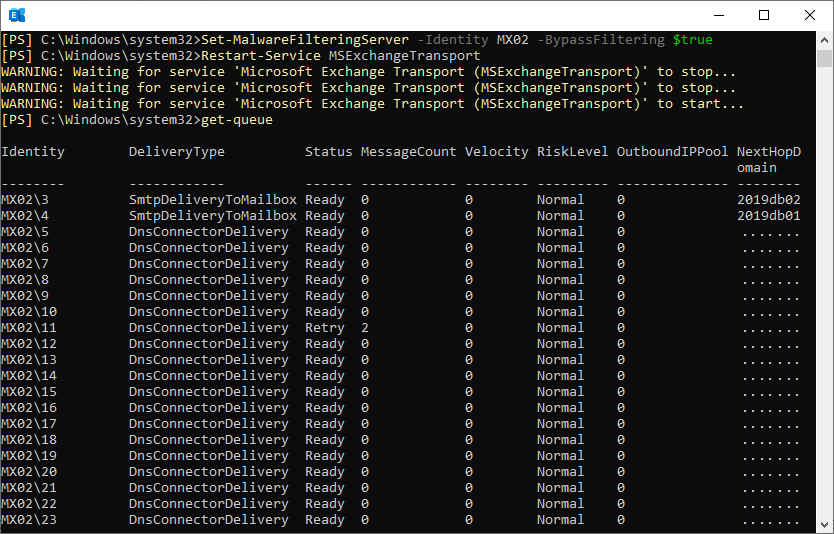 Dit issue speelt ook bij Exchange Server 2016. Nieuwe filter updates die wèl werken zouden inmiddels ook gesignaleerd zijn.
update
Het Microsoft Exchange team heeft een update script uitgebracht dat een oplossing biedt waarbij het anti-malware filter weer geactiveerd kan worden: https://techcommunity.microsoft.com/t5/exchange-team-blog/email-stuck-in-exchange-on-premises-transport-queues/ba-p/3049447