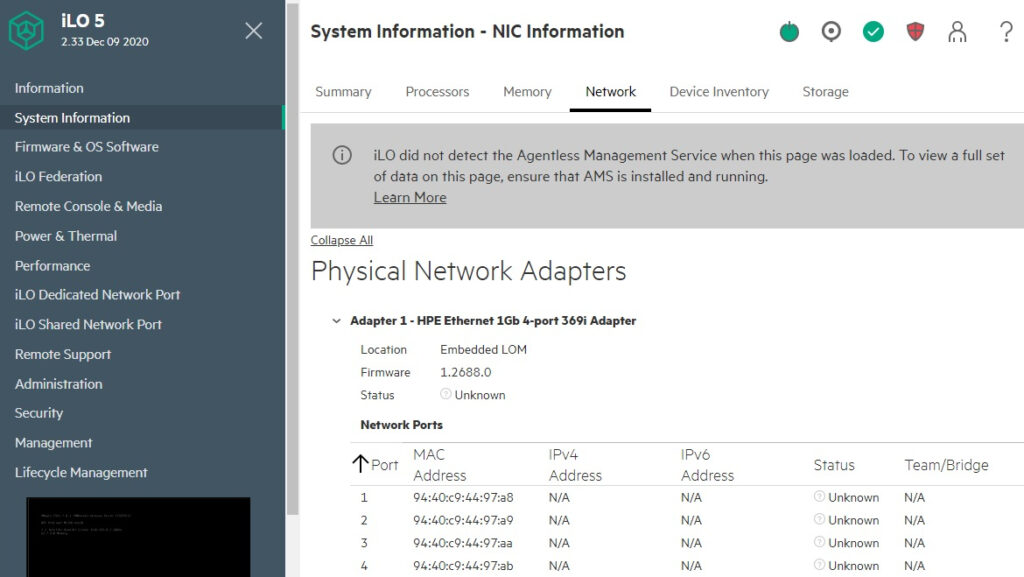 Wanneer je de iLO's van servers in je monitoring hebt, zijn loze meldingen niet gewenst. Na een stroomonderhoud bleeft een server via de iLO een "network unknown" melding genereren. De VMWare host was gewoon in de lucht en de VM die er op staat was via auto-start netjes up gekomen.
Een zoektocht op internet op de melding iLO did not detect the Agentless Management Service when this page was loaded, of iLO network unknown, levert vooral artikelen op die zich richten op de installatie/configuratie van snmp of uberhaupt het installeren van AMS. De host had echter altijd netjes gerapporteerd, dus dat kon het niet zijn in mijn ogen aangezien het een HPE Custom Image betrof.
Om dit probleem te verhelpen stop en start je de AMS service op je host. Bij een VMWare host verbind je via SSH waarna je een stop en start doorvoert via de shell.
/etc/init.d/hp-ams.sh stop
/etc/init.d/hp-ams.sh start
of simpelweg alle management agents:
services.sh restart
Binnen Hyper V start en stop je de service. Of controleer je dat deze niet per abuis disabled staat.